The Mid-Atlantic Wildfire Training Academy will be held from June 8-14, 2019 at Garrett College.
Sign up at the official registration page and please complete course enrollment by May 3.
2019 Course descriptions and costs are available at the links below.
Click here for the Fire Academy Master Course List (Excel)
Click here to download Mac Academy Matrix (PDF)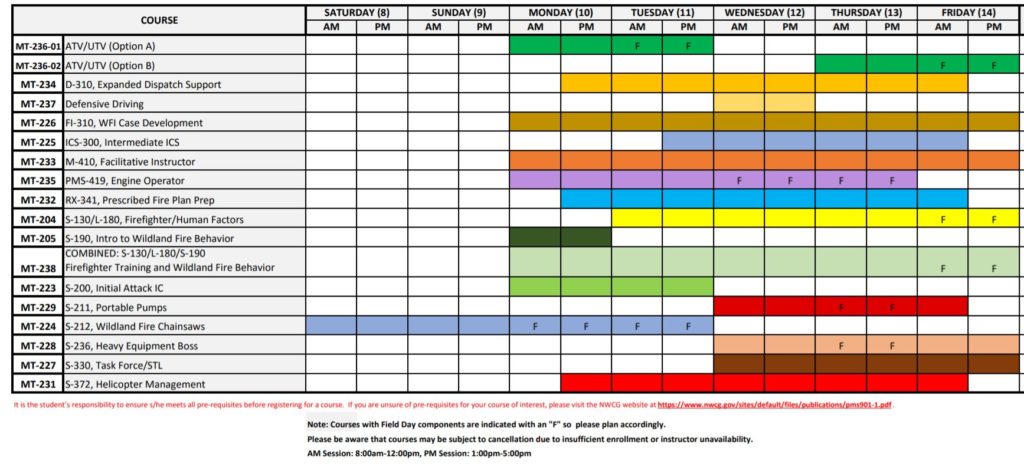 It is recommended that you complete your registration via a computer or iPad rather than a mobile device. When you are ready to register, please follow these IMPORTANT instructions before signing up!
If registering for multiple people, please register for one person at a time.
Note: Dinner will be provided on the evenings of 6/10 and 6/12 so don't over order!
Registration Options



Compact Members: The Mid-Atlantic Fire Compact is comprised of seven state and associate partners from the U.S. Forest Service, National Park Service and Fish and Wildlife Service. The seven states in the compact are Ohio, West Virginia, Virginia, Pennsylvania, New Jersey, Delaware, and Maryland. Compact Members are state employees (or are affiliated with one of these seven states listed) who have been selected to participate in training by their state fire supervisor. All authorized compact members will receive a code from their state fire supervisor to use at registration.
Non-Compact: Non-Compact members are often volunteer or working with local, state, or federal organizations/agencies outside of the state forestry organizations within the Compact. Federal employees are not considered a part of the Compact unless they are instructing for the Academy. In this case, Instructors should receive a code and register using the Instructor option.
Instructors: All instructors should receive a code from the Compact and register using the Instructor option.
---
Lodging Options:
Built in 2006, Laker Hall is a three-story residence facility housing students in two-and four-bedroom apartment-style units. Each suite is equipped with kitchen, living room, and bedroom (bed, dresser, and desk); dishes are not provided. There are appliances in each room, with the exception of microwaves; however, there is a microwave available in the lounge in the common area. The Hall features two recreation lounge areas, vending machines, and laundry facilities (coin-operated), free basic cable through Comcast (TVs are not provided), and free wireless internet access. Laker Hall is also handicap accessible and equipped with an elevator and rooms are air conditioned. Each room is stocked with trash cans, trash bags, toilet paper, hand soap, and shower curtains. Pillows and blankets are NOT provided. To view photographs of Laker Hall and take a virtual tour, please visit: Laker Hall Virtual Tour
Cost: $51.68 per night (includes occupancy tax)
Built in 1994, Garrett Hall is a three-story residence facility offering traditional suite-style housing. Each suite houses four students and has two rooms which are joined by a shared bathroom. Each room is furnished with a bed, dresser and desk per student, as well as a microwave, mini-fridge, and free basic cable through Comcast (TVs are not provided). The main floor features a recreation lounge, general kitchen area, vending area, laundry facilities (coin-operated), and mail room. Free 'RezLife' wireless internet access is provided. Pillows and blankets are NOT provided. Garrett Hall does NOT have air conditioning, but this should not be an issue in early June. To view photographs of Garrett Hall and take a virtual tour, please visit: Garrett Hall Virtual Tour
Cost: $43.73 per night (includes occupancy tax)